Final Fantasy VII : DoC - Lost Episode
Final Fantasy VII : Dirge of Cerberus Lost Episode Preview
Final Fantasy VII : Dirge of Cerberus Lost Episode is a Japanese third person shooter role-playing game was developed and published by Square Enix. Unveiled at E3 '06, the game was released on August 18 in North America. First only available on Amp'd mobile phones, the game was eventually also made available on Verizon's V Cast network. It was also unveiled as a flagship title for NTT DoCoMo's Foma 903i handset at the 2006 Tokyo Game Show.
Final Fantasy VII : Dirge of Cerberus Lost Episode Storyline
Three years after Meteorfall from the original Final Fantasy VII, the world is threatened by the Deepground soldiers, a mysterious army of bloodthirsty warriors. Vincent Valentine learns that the soldiers are searching for him in the hopes of harvesting the Protomateria from his body. He decides to investigate the Shinra Mansion in an effort to uncover the truth about his own past—and the mystery behind the Protomateria as well. Reeve Tuesti's goal is to find information on the DG written by Dr. Lucrecia Crescent. On his way to the mansion, his chopper is attacked by the Deepground. He survives and makes his way to the Shinra Manor, fighting countless Deepground Soldiers.
Final Fantasy VII : Dirge of Cerberus Lost Episode Screenshot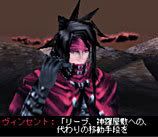 Labels: Final Fantasy Game Series